There is much to study and learn about the medieval banquet hall which was so popular in 12th century Europe. The great, Norman stone castles of that period all generally had what was referred to as their 'Great Hall' and this is what was commonly used to stage magnificent banquets to entertain the noble lord's guests.
The Medieval Great Hall
For the celebration of a special occasion, the Great Hall became the banqueting hall and the focal point for feasting. The hall would be bustling with people – guests enjoying the food and entertainment and servants busily ensuring all went well. The celebration could be one of many different types – a wedding, a birthday, an anniversary of some kind or even in recognition of a victory in battle.
The banqueting hall was of course the biggest room in any castle or medieval country house. This photograph demonstrates that perfectly. This is the grand, medieval Great Hall of a French medieval castle and the site of many medieval banquet feasts. When not in use for banquets, the hall hosted important ceremonies and judicial cases. The scale and impressive nature of the Great Hall's architecture has to be seen first hand to appreciate it. I was lucky enough to do that some years ago and took this photograph as a souvenir.
Banquet Hall Features
Typical features of any banquet hall included high ceilings, a grand fireplace and often a minstrels gallery or at least a raised area for the musicians to play. At lavish banquets there would be  fanfares of music to herald the arrival of the next course or to signify an important point in the proceedings. Medieval jesters and jugglers were also often present alongside the musicians.
Most medieval banquets saw a lot of wine consumed, so being able to serve the wine and replenish guests' goblets was very important. A special table or a cupboard known as an aumbry (aka ambry) would be somewhere in the Great Hall and on its shelves would be ewers (wide mouthed pitchers or jugs) as well as highly decorative platters.
I have often imagined what a medieval banquet hall might look like, all laid out and ready for the guests. So, I put the keywords from my imagination into an AI image bot and came up with this picture. Whilst it may not be entirely accurate, it at least gives an impression of what medieval banquet guests faced as they entered the room …
Decoration Of The Great Hall For A Medieval Banquet
In any great medieval banquet hall, tapestries or heraldic flags and banners usually adorned the walls. This added an air of splendour to the surroundings but it was also useful in proclaiming the importance of the most eminent of the banquet guests. Their heraldic flags or family crests would be the ones on display. This was particularly so if a king, member of a royal family or important member of the Church was amongst the banquet guests.
This image is again the result of using an AI image bot. I imagined a medieval banquet hall decorated with heraldic flags with knights and their noble lord celebrating a victory.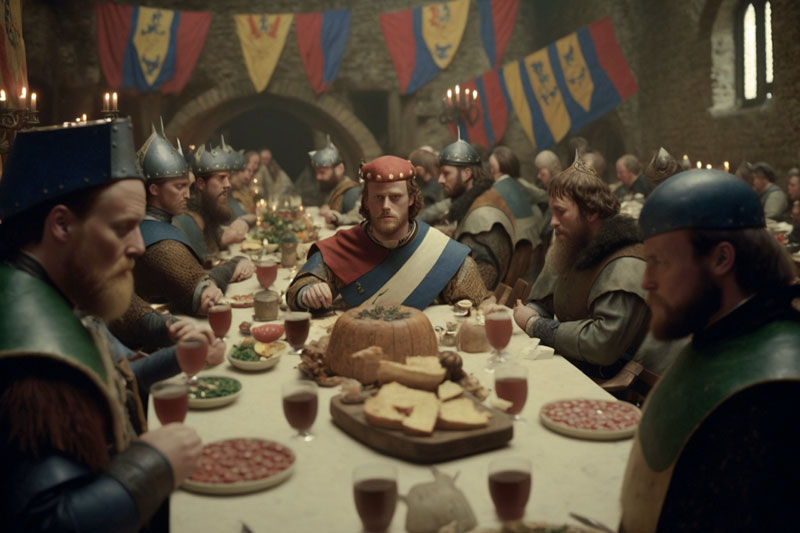 See A Medieval Banquet Hall Today
Many of this type of banqueting hall still survive in castles around the world today. Pictured above is a good example: It is the banquetting hall at St Mesmin Castle in the Vendée area of South West France which has been lovingly and painstakingly restored. Modern day visitors can get a sense of its original splendour back in the days when Eleanor of Aquitaine spent time in this area, close to her Duchy of Aquitaine. (The ruins of her family's Chateau de Talmont are not far from Mesmin).
When you stand in a historic place like this you begin to get a sense of what it must have been like for the lucky few nobles and their guests who enjoyed many a lavish evening's food and entertainment there.