Many types of medieval food are actually common to our 21st century diet. It may be surprising to many people to discover this fact. The staples of medieval food such as bread, soup, meat, vegetables, honey and milk still provide the core of our diet today.
However, gone are the days of the medieval kitchen open hearth. Modern day cooking methods (microwaves, toasters, grills and fan ovens) have taken over. This, along with the evolution of commercial food production methods, is perhaps the greatest influence on the food we eat today. It is also what helps define medieval food in its true context.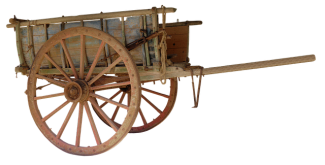 Methods of farming, cultivating and transporting medieval food were very limited. Today it is the opposite. Machinery is mainly responsible for this significant change. The wooden plough has been replaced by the tractor, farmers with scythes have been replaced by combined harvesters, haycarts and horse transports have been replaced by diesel trucks.
These changes have increased the quality and volume of food as well as its diversity. A good example is the tomato, unknown in Europe before the 1800s. Another example is the avocado which was regarded as an exotic import not so long ago. The expectations of the 21st century palate are therefore vastly different to those of the medieval Europe and historical figures like Eleanor of Aquitaine.
Documented Medieval Food
So how do we know what medieval food was like? There are few definitive 'recipe books' from that time but there are two manuscripts which historians favour as being the most important. One manuscript is in English and the other in French.
English Medieval Food Manuscript
The English manuscript dates from the late 14th century (believed to be 1390). Many people regard it as the definitive guide to medieval cookery, particularly in England. Experts discovered it at Manchester University's John Rylands Library. It is entitled "The Forme of Cury" and was written on a fine parchment scroll more than 600 years ago. It lists around 200 recipes.
The title may sound a little strange at first glance but 'Cury' was the old English word for cookery. It was written by "the chief Master Cooks of King Richard II" and the recipes were for both the royal family and its servants. The document first came to public attention in the late 18th century when Samuel Pegge published his version of it.
In more recent years the John Rylands Library made translations of a handful of the recipes. The result was that their staff canteen could conjur up some medieval food for visitors to try! Dishes included an early form of egg custard tart called "Tart In Ymber Day" and boiled fruit in pastry "Payn Puff".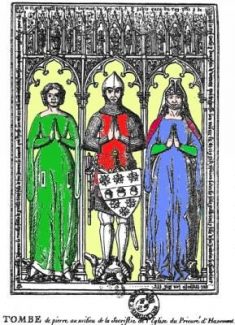 A French Manuscript – This is known as Le Viandier. It is a written manuscript collection of dishes which has been accredited to Guillaume Tirel. He was a 14th century French cook at the Royal Court of France who started out as a kitchen boy.
Tirel rose through the ranks to become head chef and served no less than three Kings of France.
He is regarded one of the first great, professional master chefs. Many people believe that Le Viandier was the beginning of the great gastronomic tradition that exists in France to this day.
For more detailed information on these medieval cookery manuscripts "The Forme of Cury" and "Le Viandier" visit my links page.
Staples Of Medieval Food
So what were the main staple foods in medieval cookery? Well, there appear to have been five main staples in the medieval diet. These were: bread, fish, meat, pottage, ale and milk. However, the type of bread and ale, for example, was quite different to the bread and ale that we consume in today's world.
It might sound surprising but medieval people drank far more ale back in 13th century Europe than they do today. This was primarily because they needed a reliable drink to accompany every meal. Water in medieval times was often contaminated. Ale was also a key ingredient in some bread recipes, especially white bread and barley bread.
I have a dedicated page about ale in medieval Europe for those who want to learn more.
I have published recipes relating to these staples of medieval food. My favourites are my barley bread recipe and medieval beef stew. Delicious! I hope you will enjoy giving them a try.
Medieval food is a whole world in itself because it is a realm of extremes in ingredients and taste. Exotic and spicy dishes were regular features of medieval banquets where the rich and powerful dined. Yet the daily menu and average diet for poor people was plain and simple food.
Generally, it was mainly vegetables with an occasional little meat. Flavouring usually relied upon the addition of medieval herbs. Now that's a subject to take you into another food world!