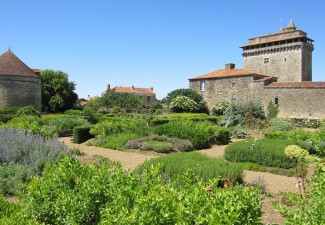 I love medieval history, medieval-themed art, books and gardens. So, when it comes to the idea of "medieval romance", these subjects are for me inextricably intertwined. Let me explain ….
A visit to a beautifully designed medieval garden is a unique experience and one to savour and to remember forever;
Reading a well-written medieval novel where every chapter is full of adventure can be a joy that you never want to end;
Exploring the detail of a medieval-inspired painting with a garden setting can transcend reality and inspire the imagination.
Each subject in its own right is worth exploring. I can vouch for having done that and I encourage anyone else to do the same. For those who have yet to embark on such a journey, I have written an introduction to these subjects, as follows ….
The Medieval Garden
A garden in the medieval era was a prized entity, especially in England and France. The gardens of rich and powerful families, nobles and royalty were particularly special. Why was that? There are two reasons:
Primarily, a medieval garden carried great value in terms of its produce. I'm not talking about monetary value but the intrinsic value that the produce held for culinary and medicinal use. A medieval castle cook, for example, welcomed a good supply of quality, fresh vegetables and herbs and no medieval physician would be without fresh herbs. Medieval people used herbs to treat a vast range of ailments. I have a dedicated medieval herbs page where you will find an A-Z of herbs popular in medieval Europe plus photos and descriptions of what they were used for.
Most medieval castles and manor houses were built close to a natural source of water, usually a river. Often there was a garden well which guaranteed the survival of the precious herbs, vegetables, fruit and flowers through the summer months.
Secondly, a medieval garden provided a quiet space away from the hustle bustle of everyday medieval life. For some it was a place for solitary, silent contemplation, for others a meeting place for friends or lovers.
Medieval Donjon Garden
Let me share with you one of several visits I made to a medieval garden next to a 14th century medieval castle in SW France. The donjon (keep) still exists today and overlooks one of the most beautiful, aromatic and colourful gardens I have ever seen. (See the photo at the top of this article) At the heart of a small French village in the Vendée, the donjon originally formed part of a medieval fortress. It had its own moat and was built for members of the powerful Lusignan family. In the late 12th century an element of the family even controlled the kingdoms of Jerusalem and Cyprus. Construction of the castle was complete by 1380.
The donjon dominates the skyline from miles away and seems larger than life as you approach it on foot.
Before you actually get to the base of the massive donjon wall, your attention is distracted by a glorious smell. Flowering roses and herbs abound in the adjacent garden. A wooden gate carries a small sign "Jardin médiéval" and as you step into the garden, you feel like you have travelled back in time 750 years! The garden has been cultivated in a medieval style where vegetables, flowers, fruit and herbs all common in medieval times, grow.
As you walk under the vine canopy, there is instant, welcome relief from the heat of the summer sun.
Sit down next to an old water fountain to enjoy the shade and the fragrance and silence of the garden becomes more intense. Close your eyes and all you can hear is birdsong and the buzzing of bees. As you open your eyes, a myriad of plants unfolds – you don't know where to look first. Herbs and vegetables bask in the sunshine, segregated into dedicated sections by willow fencing.
In front and to the left is a medieval well which is separated by a path from a small orchard of fruit trees – apple, pear and quince, all popular fruits were used in medieval desserts.
When you look towards the donjon there is a glorious carpet of colour provided by white and pink damask roses. In medieval times the damask rose symbolised beauty and love and was even used in medieval recipes for extra flavour.
Stepping back into the sunshine, I concluded my visit by walking around the perimeter – I felt like a 'medieval Queen' from one of Carol McGrath's medieval novels! The word 'romantic' is insufficient to describe this garden. Many years in the making, there is a debt of gratitude beyond measure to those who developed it and tend it with such care.
Medieval Style Art
The roses in the medieval garden at Bazoges are such a romantic feature and I don't think that is by chance. Gardens and flowers have been portrayed in all the arts for a long time, especially fine art and painting. The Pre-Raphaelite art movement took much of its inspiration from medieval culture, so it's not surprising to find gardens and roses as focal points in many Pre-Raphaelite paintings. Here are two wonderful examples by the English artist John William Waterhouse. Entitled  'The Enchanted Garden' and 'The Soul Of The Rose', they encapsulate the same atmosphere prevalent in the Bazoges garden.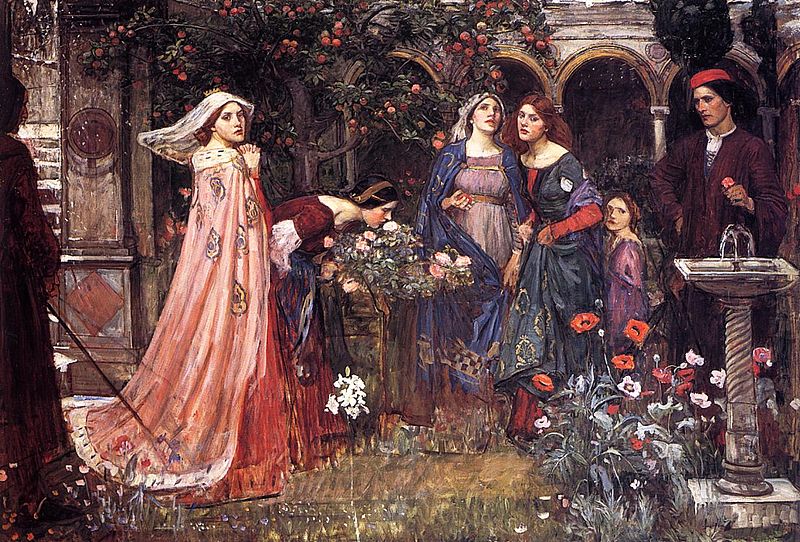 Wikipedia has a fascinating article about the language of flowers; the section about flowers in art is particularly interesting because it features the Pre-Raphaelites.
Medieval Novels
Gardens featured prominently in the lives of some of the medieval queens of England and France. It is well documented that both Queen Eleanor of Provence (wife of King Henry III of England) and Queen Eleanor of Castile (wife of King Edward I of England) loved the garden at Winchester Castle in England. Today you can find a reconstruction there of a medieval garden just beyond the 13th century Great Hall. Built in 1986, it is called Queen Eleanor's garden in honour of both queens.
Historian and medieval novel author Carol McGrath features medieval gardens in many of her books. Moreover, she weaves the symbolism of the medieval rose into the very fabric of her stories and titles and is currently writing a trilogy. The first two stories feature both queens mentioned above who loved Winchester Castle. The first book in the trilogy is The Silken Rose about Eleanor of Provence (Ailenor in this story), to be followed by The Damask Rose.
An extensive range of medieval novels have been published to date. Some are better than others but, as with all art, it is a matter of personal taste. For many people, the 'romantic' medieval novel set in the 13th or 14th century makes for enjoyable and imaginative reading. If you are interested in this period here is a list of novels set in the 14th century (courtesy of Wikipedia). It is by no means an exhaustive list but serves as an introduction. Happy 'medieval' reading!